Go in the English language press!
It is exciting for go players in the English speaking world to see any coverage of professional go in English. Here is an excerpt from this morning's edition of the Shanghai Daily,
Chinese pull off upset wins
:
"Chinese go chess players shook their Japanese and South Korean counterparts at the pre-quarterfinals of 10th LG Cup in Seoul yesterday, booking six seats in the last eight. Teenager Chen Yaoye upset world No. 1 Lee Chang-ho of South Korea, highlighting the reserve strength of China and sparking hopes of regain its dominance of the sport which has a solid following in China, Japan and South Korea."
Note that China's number one ranked player, Gu Li, also defeated the Japanese veteran, Kobayashi Koichi in the same tournament.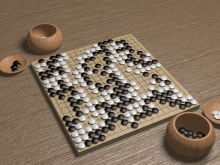 Hopefully, the East Asian press will run more go stories in their English language editions in the future. The English edition of the
Daily Yumiuri
carries Rob van Ziejst's weekly English go column,
The magic of go
. Of course, the most reliable English sources for professional go news are web sites. Both
GoBase
and
Go4Go
are outstanding - add the Go4Go
news
and
game
record rss feeds to your favorite feed viewer. Or check out my go
links
.